Someone has decided that today is National Wine Day. Until you can get home and bust out your favorite boxed vino to mark the occasion, let's count down our favorite wine guzzlers on TV.
5. Hoda and Kathie Lee
Think mornings aren't the right time for wine? The "Today" show ladies would beg to differ. The on-air personalities always have a glass of something in front of them, though they may not drink as much as you think.
4. Pretty much everyone who isn't a child on "Big Little Lies"
Beautiful, rich people and their beautiful, rich problems — I'll drink to that.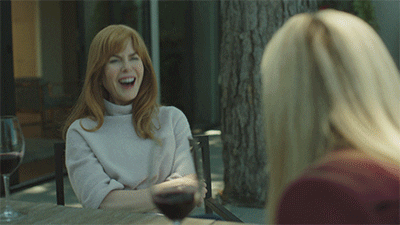 3. Olivia Pope on "Scandal"
Put on your favorite snuggly cardigan, pour a big glass of wine and pop some popcorn. Using a glass is optional.
2. Cersei on "Game of Thrones"
"Games of Thrones" returns to HBO July 16. Until then, you can watch the trailer that dropped this week — or practice your Cersei wine drinking skills.
1. Titus Andromedon on "Unbreakable Kimmy Schmidt
Season 3 of "Kimmy" hit Netflix earlier this month, but season 1's song by Titus is still one of the highlights of the series. The song technically isn't about wine, but actor Tituss Burgess does now have his own line of wines.